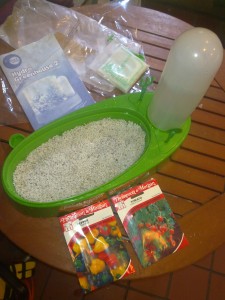 Just put my hydroponics windowsill kit back to work after I cleaned it up months ago – hopefully we'll get a nice harvest this time. Last time my mountain strawberries grow very well… they just didn't produce any fruit. I'm hoping that was just a consequence of the plant dying off before it had a chance, and that I've now removed the reason for it's death too. I think I also made the mistake of letting them grow as tall as they could, when a better idea would have been too cut them back going for more outward than upward growth.
This time I've decided to try two crops side by side. I've picked crops that have been reared for use indoors and in small baskets. The suggested sowing time is April for both but I don't think this really matters when inside, as long as they are kept warm.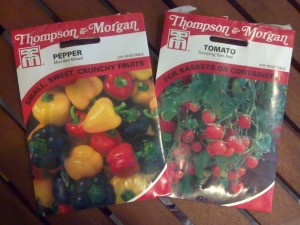 The two crops are the "Tumbling Tom Red" tomatoes  and "Mini Bell Mixed" peppers. Hopefully these will take off and if so, the suggested harvest time should come around by November. Well, we'll see if that actually happens, but looking forward to the fresh food.
Now all I have to do is replace the water and feed mix when it runs out and just leave it to grow. I have a nice spot on my kitchen windowsill all picked out for it.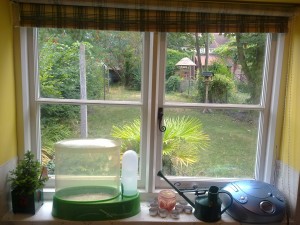 Exciting updates to come!